All About the Best Orthodontic Treatment in Kaneohe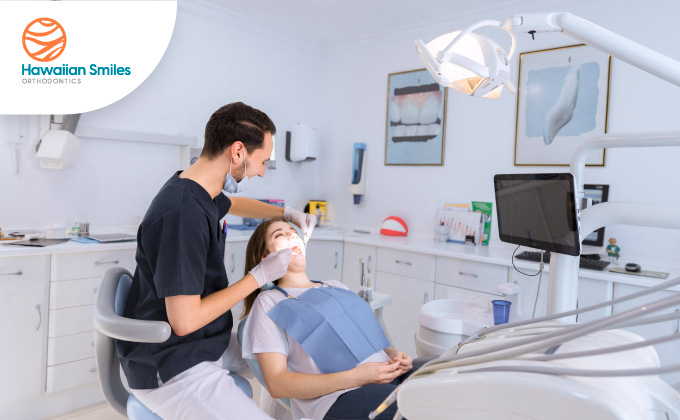 The most common reason kids, teenagers, and adults undergo orthodontic treatment is cosmetic reasons. Let's face it, we all want a perfect, confident smile we aren't ashamed to show.
Maybe many of your childhood memories involve visits to the orthodontist and a mouth full of metal wires and brackets. Or maybe you are an adult who at some point had braces and now notice your teeth have shifted, making you unhappy with the smile you see.
However, aside from the cosmetic benefits, many reasons are often left unspoken of, such as added self-esteem and overall better oral health.
As trusted Orthodontists in Kaneohe, the specialists and staff at Hawaiian Smiles Orthodontics want to ensure we provide all our patients with as much information as possible. This way, you can make the most informed decision regarding any orthodontic treatment you need.
That is why below we will be looking at what orthodontics is, common orthodontic issues, and much more.
What is Orthodontic Treatment?
According to The American Academy of Orthodontics (AAO), orthodontia or orthodontics is an area of dentistry that prevents, diagnoses, and treats dental and facial irregularities.
Usually, If you need dental alignment treatment, your family dentist will refer you to an orthodontist.
What Does an Orthodontist Do?
An Orthodontist in Kaneohe uses fixed and removable dental devices, like braces, retainers, and bands, to change the position of teeth in the mouth. We treat dental and jaw alignment issues, including:
Crooked teeth
Bite problems, like an overbite or an underbite
Crowded teeth, or teeth that are too far apart
Jaw misalignment
The goal of orthodontic treatment is to improve a patient's bite. Teeth that are straight and evenly spaced will align with opposing teeth in the jaw. Furthermore, ideal bite relationships also mean better dental hygiene routines and optimal dental health.
A healthy bite ensures that a patient can eat, chew, and speak properly.
In the past, undergoing orthodontic care or treatment was associated with children or teenagers who needed braces. However, orthodontists can correct dental problems at any age as long as the patient has good overall oral health.
Common Orthodontic Issues
Orthodontic issues in Kaneohe are more common than one might think in kids, teens, and adults.
Orthodontic misalignments, called malocclusions, can indicate a number of different conditions. Inherited malocclusions include jaw growth problems, missing teeth, extra teeth, crowded or protruded teeth, and spacing problems.
However, premature loss of baby teeth, thumb sucking, accidents, and certain types of dental disease can also result in a need for orthodontic treatment. Let's take a closer look at the most common orthodontic issues.
Overbite
Both the ability and aesthetics of your smile can be affected by an overbite. An overbite occurs when your upper teeth excessively cover your lower teeth. Such a condition could result in wearing down teeth and causing the lower teeth to bite right into the roof of your mouth.
Underbite
If your lower jaw seems to extend beyond the upper jaw, so forcing your bottom teeth to sit in front of the upper teeth, you have an underbite. An underbite commonly occurs when your lower jaw outgrows your upper jaw.
Teeth Crowding
If your teeth don't have enough space in the mouth, they become crooked and crowded.
Crossbite
A cross-bite refers to upper teeth that sit on the inside of the lower teeth. This problem should receive early treatment to allow the jaws to grow and develop properly. Specialized treatment can help prevent excessive tooth wear and create the necessary space for all adult teeth to erupt.
Abnormal Eruption
An abnormal eruption occurs when a tooth comes through the gum in the incorrect place.
Gap Teeth or Diastema
If you have gaps between your teeth, you may not be too confident about your smile. This orthodontic condition refers to an excessive gap or space between the teeth. Such spaces can form anywhere in the mouth but are sometimes noticeable between the two upper front teeth. Furthermore, missing teeth and smaller-than-usual pieces can result in spacing problems. This condition affects both adults and children.
What Is The Right Age For Orthodontic Treatment?
According to the Mayo Clinic, your child's first orthodontic evaluation should be by age 7. However, treatment with dental braces begins after a child has lost most of their baby teeth, and a majority of the adult (permanent) teeth have grown in.
It's more common to see phase 2 orthodontics in patients between the ages of 8 and 14.
Unfortunately, some patients might think there is an age limit for orthodontic treatment.
The simple and short answer is no. It's never too late to start your orthodontic journey toward the healthy, beautiful, straight smile you have always wanted. You can also get invisible braces and aligners for adult orthodontic treatment here.
At Hawaiian Smiles Orthodontics in Kaneohe, we believe that every patient deserves to receive quality orthodontic treatment regardless of age or smile needs. We will do everything in our power to find the perfect solution to your malocclusion.
Types Of Appliances for Your Orthodontic Treatment
There are many types of orthodontic appliances people don't know about. To name a few:
Palatal expanders
Headgear
Positioners
Let's focus on the various types of braces which can be used in orthodontic treatment to straighten teeth and align your jaw. All of the braces types below are suitable to treat both teenagers and adults.
Metal Braces
Traditional metal braces are most popular among children and adolescent patients who care about a highly resistant option. They work by applying the braces to the teeth and connecting them with a wire. Your orthodontist makes adjustments to the wires at your appointments every 4-8 weeks.
Clear Ceramic Braces
Ceramic braces are braces made of clear, tooth-colored material. They work in the same way as metal braces but are more discreet and less visible. Because of their delicate nature, these braces tend to stain depending on diet and brushing habits.
Self Ligating Braces are similar to regular braces; however, there is a fundamental difference in design. These braces use doors or clips to hold the wire in place rather than elastic rubber ties. They can also come in various materials, such as stainless steel or ceramic composites.
The most popular of the bunch, Invisalign or clear aligners, are the most convenient and comfortable of all orthodontic devices. These clear trays move your teeth into position without anyone noticing you are currently undergoing orthodontic treatment. Because they are also removable, you can say goodbye to diet restrictions, and it will be easier to maintain proper oral hygiene.
Cost Of Orthodontic Treatment In Kaneohe
The cost of your orthodontic treatment in Kaneohe will vary depending on several factors.
Usually, costs range between $3,000 and $7,000. Depending on the severity of your malocclusion and the braces type you decide on using it throughout your treatment time.
Fortunately, several options help offset the initial cost of out-of-pocket. At Hawaiian Smiles Orthodontics, we offer our patients interest-free payment plans so you can begin your journey towards a perfect smile without worrying that you'll break the bank.
Get Help From the Best Orthodontist Kaenohe Has to Offer
If you are ready to begin your orthodontic journey towards a celebrity-like smile or if you have any questions regarding our orthodontic treatments in Kaneohe, give us a call at 808-900-4319.
Dr. Nayak and the team look forward to meeting you and welcoming you to our orthodontic family.
Related Post: