At Hawaiian Smiles, we recognize that all of our patients are unique and deserve to receive orthodontic care that reflects their individual needs.
Dr. Yim and Dr. Nayak, along with their knowledgeable and talented team, are eager and committed to deliver the highest quality orthodontic care. With a highly-skilled staff dedicated to utilizing the newest technology and advances in the field, our practice works to ensure that your orthodontic experience is rewarding and comfortable every time you visit our practice. We look forward to working with you and your ohana soon.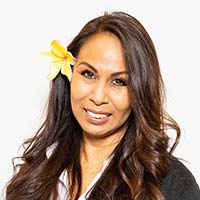 Lani Guillermo
Lead Treatment Coordinator
I was born and raised on the island of Kaua'i and have called O'ahu home for many years. I have an extensive background in securities trading and marketing. I totally love my job! Our team works diligently to provide our patients with the highest quality of orthodontic care. It's about creating genuine relationships and beautiful smiles that will last a lifetime. My greatest rewards are the hugs I receive from our patients and their families who love the final results. I enjoy spending time with my family and close friends, hula dancing, traveling, shopping and working out.
Sue McLafferty
Financial Coordinator
I joined Hawaiian Smiles with a deep background in Medical Management, from orthopedics to plastic and reconstructive surgery. I have enjoyed working here the last few years and am grateful for the opportunity to add orthodontics to my repertoire. I was born and raised on the East Coast, and have lived in New York, Colorado, Maine and California. I moved to Hawaiʻi in 1998 with my husband and daughter. I most enjoy spending time with my family and pets, growing orchids and watching sports.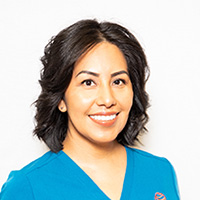 Maribel Bazell
Clinical Assistant
A smile is the prettiest thing a person can have!  Creating beautiful smiles has been my passion for the last 11 years with this practice.  Before moving to Hawaii from Arkansas where I graduated from Eastern College of Health Vocations, I worked in general dentistry for four years.  I enjoy helping our patients achieve their best smiles!
Tiana Jaquis
Scheduling Coordinator
I was born and raised on the island of Oahu. My previous work experience was in general dentistry, now being in Orthodontics there is a little bit of a change but knowing general dentistry has helped. Outside of work I love to spend time with my family and children, going shopping and surfing. Kylie Amarino
Clinical Assistant
I always loved going to the dentist and since intermediate school have been interested in teeth.  My training at the Hawaii School of Dental Arts prepared me for working in dentistry, and I am also a pharmacy technician. I love spending time with my family and friends on Hawaii Island, trying new things and going out of my comfort zone.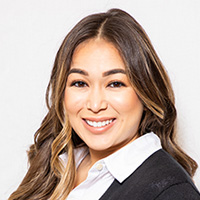 Tihani Medeiros
Clinical Assistant
I was born and raised here in Hawaii and have been working for Dr. Yim since 2013. I have over seven years of experience working with my orthodontic family! I love spending any free time with my family, especially my three year old daughter, Akira. We love to spend our time together going to the beach, fishing, traveling, hiking, and–my personal favorite–gardening. Kary Medina
Clinical Assistant
The greatest reward of my job is being a part in creating beautiful smiles. Born and raised in Kailua Kona, I stepped into the dental field in 2009 with a fascination in the industry. Fast forward to present day, I'm driven with the same desire and passion for the trade. My background consists of experience in general dentistry, endodontics, orthodontics, as well as oral and maxillofacial surgery. When I'm not living in scrubs, I practice muscular massage therapy. My days are spent raising my beautiful children, enjoying our island and all its beauty, and growing our love for Hawaiian language and culture. 
"My daughter and I visited today for a consultation. Dr. Yim & Lani were very nice and personable. They put my nervous daughter at ease. Lani took the time to answer all of our questions with care. We look forward to working with Dr. Yim and his staff."
"Dr. Yim and his staff are very friendly and amazing. They made sure my daughter felt very comfortable each visit, and they were always readily available for any questions. They took the time and care needed for my daughter's concerns. We are absolutely satisfied and happy with the results! Being that we drove from Hilo to Kona each visit, they were very accommodating to our scheduling. I highly recommend Dr. Yim to anyone!"
"I can highly recommend Dr. Yim and his wonderful Team! The office works like a well oiled machine. Everyone working hard…but having fun too. I'm very pleased with both the service and the price. But what I'm most happy about…is my beautiful straight white teeth!! Thanks Dr. Yim and Team!!"
"We are very appreciative of the whole process for Invisalign for my daughter. The staff and doctor made this very easy to understand and are extremely helpful in every way. We couldn't be happier! Invisalign is such a benefit and really made my daughter not only happy but excited of this experience. Thank you so much!!"
"Dr Yim is the man!! I brought my 2 children in for a consultation just today and you just KNOW he is VERY experienced in his field and his staff is very friendly. I left feeling very pleased and at ease after a dentist (who obviously didn't know what they were talking about) made me very worried about my child's palate. What a kind and sweet man!"
"Dr. Yim and his staff are so great that words can't describe them. My daughter has such beautiful teeth now thanks to this wonderful team. Every time we visit for a follow up we feel like we're at a family reunion. I do not know how Dr. Yim has put together such a great team in Hawaii with the difficulties finding good long term help but thankfully he has and our family is indebted to them for everything they have done for our daughter."
"Best dentist/orthodontist on the Big Island! I was so pleased with my appointment. Their customer care is phenomenal. Very clean space, well organized. Very professional. I highly recommend Hawaiian Smiles for any dental needs!"