Orthodontist vs Dentist and Other Specialties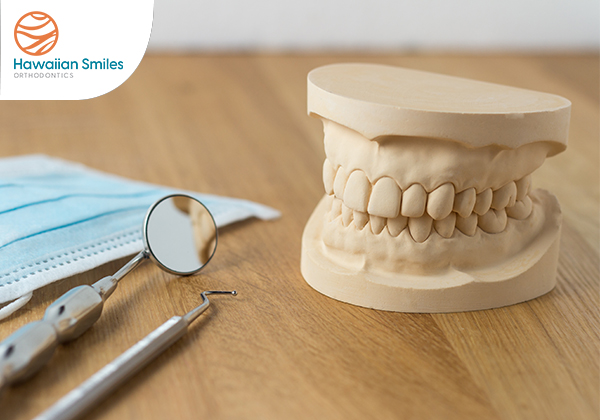 At Hawaiian Smiles Orthodontics, we firmly believe that everyone should have access to quality orthodontic and dental care. Orthodontics doesn't only give you health benefits but can help with increased self-esteem: it's an important part of your overall health.
Maybe when you were younger, you remember spending some time wearing braces. Or maybe now, as an adult, you are unhappy with your crooked teeth and find yourself not smiling in photos or during gatherings with friends and family.
Whatever your previous or current experience is with braces, it's most likely that when you've thought about having a more esthetic smile, you have thought about orthodontics.
Let's take a deeper look into what orthodontics is and go beyond the use of braces we are all familiar with.
What Is Orthodontics?
According to the American Academy of Orthodontics (AAO), orthodontics or orthodontia is an area of dentistry that prevents, diagnoses, and treats dental and facial irregularities.
Orthodontics also corrects mal-positioned teeth and jaws and misaligned bite patterns. Usually, Orthodontists in Kaneohe will use orthodontic devices such as the traditional metal braces we are all familiar with to treat these irregularities.
People often associate a perfect smile with good health, and It's true. Your oral health plays an important role in your overall well-being. Malocclusion, or misaligned teeth, can lead to dental issues, including tooth decay, gum disease, and difficult or painful chewing.
Just as important as orthodontics is the doctor in charge of practicing this medical specialty. They are the ones who are responsible for helping you achieve a perfect and healthy smile.
What Is an Orthodontist?
An orthodontist in Kaneohe is a dentist trained to diagnose, prevent, and treat teeth and jaw irregularities. Orthodontists correct existing conditions and have the necessary training to identify problems that may develop in the future. Orthodontists can treat people of all ages, from children to adults.
An orthodontist is a doctor who is in charge of fixing gaps, crooked teeth, and misaligned bites with the use of orthodontic devices such as braces, retainers, and bands to move teeth into their correct and more esthetic position.
Having healthy teeth and a bite ensures you can eat, chew, and speak properly. In the past, we used to believe that only teenagers and children could benefit from orthodontic treatment. But with time, it has been widely accepted to see adults undergoing orthodontic treatment.
An orthodontist, however, can correct dental issues at any age, as long as the patient is in overall good health.
Education and Training Needed to Become an Orthodontist
In addition to attending college, orthodontists also attend dental school and orthodontic school. After graduation, they spend two to three years in an orthodontic residency program. Although all of this schooling may seem too much, this training is essential because most dental schools offer limited orthodontic instruction.
Orthodontic residency programs offer intensive, focused instruction for dental specialists. They focus on two disciplines:
Orthodontics: This specialty focuses on teaching how to properly and safely move teeth
Dentofacial Orthopedics: This specialty focuses on how to properly guide development in the teeth, jaw, and face
After completing their training, orthodontists have the option to become board certified.
What Is Board Certification?
Although board certification is voluntary, it is also one of the highest honors an orthodontist can receive. Board certification represents the orthodontist's personal and public commitment to specialty practice and lifelong learning standards.
According to the American Board Of Orthodontics (ABO), An orthodontist may become board certified by the American Board of Orthodontics by successfully completing both a written and a clinical exam. Once this is complete, the orthodontist will receive a time-limited certificate. By the end of the time-limited certificate, the Board Certified orthodontist must have taken the appropriate renewal examination to remain board-certified.
These orthodontists have studied and performed hundreds of additional hours to fully demonstrate the judgment, skills, and knowledge required for providing treatments and services at the highest level possible for patient care.
Why Is Board Certification Important?
When choosing an orthodontist in Kaneohe, it is important to look for an orthodontist that has board certification because board certification means that your orthodontist has proven they can provide the highest quality of orthodontic care possible.
Because board certification is completely voluntary, due to the amount of additional effort and time an orthodontist must dedicate to their education, it is the highest achievement obtainable. So much so that only 1 in 3 orthodontists are board-certified.
Working With Other Specialties
Some orthodontists believe in a multidisciplinary approach. This means that if you want, your orthodontist can consult with your general dentist or other specialists. A periodontist, prosthodontist, or oral surgeon could be present in your initial consultation to make you feel more comfortable with the recommended treatment for your dental issues.
As you can see, many things need to go through your mind when researching which orthodontist is right for you and your family. Now that you know more about what orthodontics is, what an orthodontist does, and the education and training required to be able to provide the highest level of dental care, you are ready to decide when to begin your orthodontic journey toward perfectly straight pearly white teeth.
To schedule an appointment with us to learn more about our treatments, take a tour of our office, or meet our entire team of doctors, please visit the rest of our website.
We look forward to meeting you and helping you have the beautiful and healthy smile you have always dreamed of.
Related Post: