Invisible Braces Options for Your Adult Orthodontic Treatment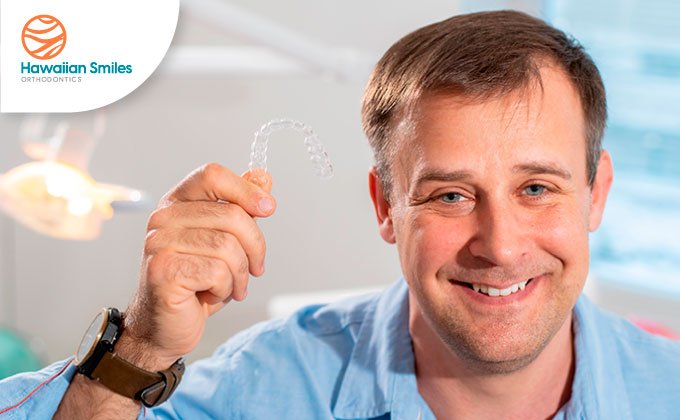 Many of our patients have concerns about getting adult braces treatment. They also wonder if they're truly beneficial past a certain age and whether or not there are invisible braces options available.
We want to remind our readers and patients that good orthodontic treatment isn't limited to any specific age. Even more, some are worried that the investment won't be worth it.
Here at Hawaiian Smiles Orthodontics, we want to help everyone have some peace of mind when considering whether to engage or not in orthodontic treatment. We'll discuss age and cost as some of the most popular concerns among adult patients here in Kaneohe; likewise, we will give you some estimates that can help inform your decision.
We want to focus on some aesthetically pleasing alternatives to traditional braces. Ceramic braces, invisible braces, and clear aligners are all names used by patients to talk about nearly invisible orthodontic appliances. Specialists, such as Dr. Nayak, use them to fix your teeth and jaw position while avoiding that dreaded "metal face" look.
Let's get right to it, then.
Why Some Worry About Getting Adult Invisible Braces
One concern we mentioned at the beginning is patients fearing they're too old to start treatment now. Let us reassure you. You are not too old to start your orthodontic treatment.
People may wish to start their orthodontic care out of health concerns or cosmetic desires. Either way, the only thing we'll need to ensure is that your teeth are strong enough to endure the planned treatment. You can start at 15 or 50, even later than that, and you can still achieve your goals with the appropriate guidance.
The American Association of Orthodontists (AAO) reported an estimated 1.61 million adult patients undergoing treatment in the US.
We also wanted to mention this additional fact about adult patients. Adults are considerably better at following their specialist's recommendations.
For example, when Dr. Nayak reminds his Kaneohe patients about what foods to avoid, how to clean their teeth and orthodontic appliance, and when to use their retainers, he notes that adults listen more carefully to his instructions.
This study also proves the point. In general, we expect adults to be more compliant than children or teenagers and have more success with their treatment.
Likewise, you might be worried about your appearance. Adults are concerned their coworkers might think their appliances are out-of-place in an office setting. Other patients might be concerned about speech difficulties during their tooth-alignment strategy.
Don't worry one bit. The most important thing here is you're working towards a more beautiful and healthy smile. Still, you might be relieved to know there are invisible braces options available to you.
Let's talk about them.
What Options Are Available For Adult Invisible Braces?
Fortunately, many advancements in designs and materials technology resulted in significant innovations that we continue to exploit to help self-conscious patients worried about their appearance during this specialized care. As a result, you now have several options for your adult treatment.
Let's review two alternatives to traditional metal braces available to you.
Ceramic Braces
They follow the same principles as their stainless steel counterparts. However, this alternative differs mainly in one point: the materials used to manufacture brackets and archwires.
You might find it interesting that the composite materials used now for ceramic braces came from space exploration innovations. You could follow this link to NASA's publicly available information to check the original 1989 article if you want to read more.
Manufacturers use polycrystalline alumina to make some of the parts. This material blends in with your tooth's natural color, making them a discrete alternative to traditional braces. It's not just the brackets; you can find archwires made with similarly colored materials that help decrease your appliances' visibility.
Please note that this option has a couple of drawbacks.
They are less durable than metal braces, meaning you will have to be more careful with your dietary restrictions and oral hygiene routine to avoid damaging the pieces.
You might even need more frequent help with minor orthodontic emergencies when you use this type of appliance.
Similarly, you will have to be careful with your dietary choices because the parts can stain more easily.
Invisalign Clear Aligners
These aligners are all the fuzz. Instead of choosing braces for adults, patients of all ages seek to use aligner trays because they are removable and almost entirely transparent. You can, and should, take them off for your next meal or dark beverage, such as black tea, coffee, or cola soda.
These appliances help fix most orthodontic problems, but you will have to consult with your orthodontist first to check if you are a viable candidate for this option or not. Some cases of rotated and misaligned teeth are too severe for Invisalign.
Another thing Invisalign candidates should consider is that, on average, this option for your treatment is much faster than traditional types of braces.
You will still have to come to the office to get your new aligner trays, but you won't have to spend much time here for any fixes or lengthy consultations. We'll miss you, even though we know you're glad you won't be stuck for long in our office. If you want truly invisible braces, you should consider Invisalign clear aligners.
The Average Cost of Your Orthodontic Treatment With Adult Invisible Braces
The overall cost of using ceramic braces can fall anywhere between $4,000 and $8,000; that's a price point above your regular metal type of braces. Also, up there, Invisalign ranges from $4,000 to $8,000 when you consider all the additional expenses like x-rays.
You can check this thorough comparison of the various orthodontic treatment costs.
Fortunately, you won't have to spend all this money upfront. You might want to review our page for financial information. However, whether you're coming to our Kaneohe location or still wondering where to go, you should always look for any available resources available with your chosen orthodontist if you want to get invisible braces
From monthly interest-free payment plans to working with dental insurance plans, always ask your orthodontist's office about how you can make this treatment more accessible to you.
Your treatment costs will vary depending on your circumstances, the severity of your orthodontic condition, and your choice of orthodontic appliance. Keep all those details in mind as you consult with your chosen orthodontist about treatment.
Get Your Adult Invisible Braces in Kaneohe
Here in Kaneohe, the team at Hawaiian Smiles Orthodontics is thrilled to help our adult patients start their journey toward a healthier and more beautiful smile with invisible braces.
Make sure you give us a call to check when you can come for a consultation with our specialists in orthodontics. We'll love to have you with us and start your adult braces treatment.
Related Post: