Thank you for your interest in our services.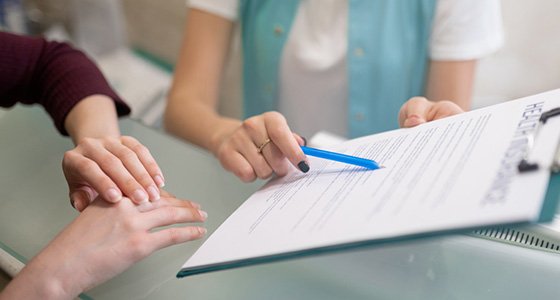 Does my dentist have to schedule my appointment with the orthodontist?
No, it is not. Many of our patients are referred by their family dentist, yet many other patients take the initiative to schedule an examination themselves.
At what age should I schedule an appointment for an orthodontic screening?
The American Association of Orthodontists recommends an orthodontic screening at age 7. By this age, several permanent teeth in most children have erupted, allowing us to effectively evaluate your orthodontic condition.
Will my teeth straighten out as they grow?
No, they will not. The space available for the front teeth does not increase as you grow. In most people, after the permanent molars erupt, the space available for the front teeth decreases with age.
How do I schedule an appointment for an initial exam?
There are several ways to schedule your first appointment with us! Simply call our office, or fill out our Appointment Request online. We will be happy to schedule an appointment for you.
What will happen at the initial examination appointment?
Please see our page, First Visit, for all information concerning your first appointment with us.
Will I need to have teeth extracted for braces?
Removing teeth is sometimes required to achieve the best orthodontic result. Straight teeth and a balanced facial profile are the goals of orthodontics. However, because new technology has provided advanced orthodontic procedures, removing teeth is not always necessary for orthodontic treatment.
How long will it take to complete treatment?
Treatment time depends on each patient's specific orthodontic problem. In general, treatment times range from 12-30 months. The "average" time frame a person is in braces is approximately 22 months.
How much will braces cost? Are financing options available? How does my insurance work?
Please see our Financial Information page for more information.
How often will I have appointments?
Appointments are scheduled according to each patient's needs. Most patients in braces are typically seen every five to 10 weeks.
Can I schedule all of my appointments after school?
Unfortunately, we cannot schedule all appointments for students during after-school hours. However, because most appointments are scheduled five to 10 weeks apart, most patients will miss minimal school due to their orthodontic treatments. We will, however, make a sincere effort to meet your scheduling needs.
Can I drop my child off for an appointment?
Yes. We understand your busy schedule, and we are happy to help you make the most of your time.
Do braces hurt?
Generally, braces do not "hurt." After certain visits, teeth may be sore for a few days. In these situations, pain medications such as Advil or Tylenol will ease the discomfort; however, after most visits, patients do not feel any soreness at all.
Can I return to school the day I receive my braces?
Yes, you are able to return to school after your orthodontic appointment.
Do you give shots?
No. Shots are not necessary in orthodontic treatment.
Can I still play sports?
Yes. We recommend a mouth guard for all sports.
Do I need to see my family dentist while in braces?
Yes! Regular checkups with your family dentist are important while in braces.
Are there foods I cannot eat while I have braces?
Yes. Once treatment begins, we will provide a comprehensive list of foods to avoid. You can avoid most emergency appointments to repair broken or damaged braces by carefully following our instructions.
What is an emergency appointment? How are those handled?
If your braces are causing extreme pain or if something breaks, you should call our office. In most cases, we can address these issues over the telephone. If you require an emergency appointment, we will set time aside to see you.
Can orthodontic correction occur while a child has baby teeth?
Yes. Some orthodontic problems are significant enough to require early intervention. However, if a patient is not yet ready for treatment, we will follow that patient's growth and development until the time is right for treatment to begin.
What is Phase One (early) Treatment?
Phase One treatment, if necessary, is usually initiated on children between the ages of 7 and 10 and lasts about 12-21 months. The primary objective for Phase One treatment is to address significant problems to prevent them from becoming more severe and to improve self-esteem and self-image.
Is it too late to have braces if I am already an adult?
Of course not! A large percentage of our patients are adults. No patient is "too old" to wear braces!
Can I wear braces even though I have crowns and missing teeth?
Yes. A tooth with a crown will move just like a tooth with a simple filling. When teeth are missing, orthodontic treatment will aid in the alignment of the remaining teeth.