Now, everyone can discover the power of Invisalign®. With Invisalign® first, even our youngest orthodontic patients can get the smiles they deserve, with the ease and comfort of Invisalign®.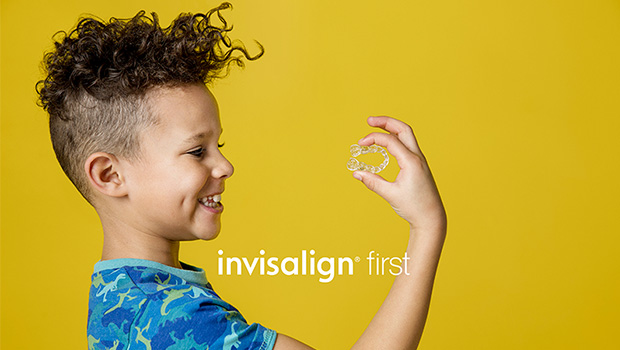 What is Invisalign® First?
Invisalign® First is a treatment designed just for little smiles – it's a phase 1 treatment option that provides effective results. And even better, it's designed to treat a host of issues in growing smiles – ranging from the simple to the complex. Whether your child has spacing issues, crowding or narrow arches, Invisalign® First can help.
What are the benefits to Invisalign® First?
Invisalign® First provides a comfortable and easy way for your child to correct their orthodontic issues. The aligners fit snugly over their teeth and gently work to correct whatever issues are present in your child's developing mouth. Your child doesn't have to worry about trying to brush and floss around brackets and between wires because the aligners are removable. That means oral care is a snap – just remove the Invisalign aligners and brush and floss as always. And because there are no brackets or wires, Invisalign® provides a more comfortable experience for our youngest patients.
When is Invisalign First used?
Invisalign First is used as a Phase 1 treatment. This typically occurs in our youngest patients between the ages of six and 10. The goal of this treatment is to help intervene to correct developing issues in order to make room for all of the permanent teeth. Invisalign First can:
Prevent existing bite issues from worsening
Straighten teeth
Improve the smile's appearance
Correct issues caused by habits such as thumbsucking or tongue thrusting
Make the next phase of treatment more efficient and effective.
Invisalign First can treat a host of orthodontic issues in developing mouths and is designed specifically for our youngest patient's smiles. If you're wondering whether Invisalign First may be the right solution for your child, call Hawaiian Smiles Orthodontics today.