Invisalign® Adult provides a way for you to receive orthodontic treatment with minimal impact on your everyday life. With Invisalign Adult, you'll spend less time in our offices and more time dedicated to your busy life. And best of all, Invisalign® Adult is clear, comfortable, and removable.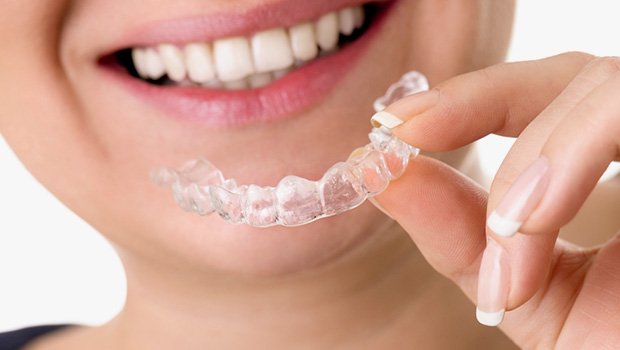 Are you looking to improve the appearance of your smile and function of your bite, but aren't thrilled with the idea of a mouth full of metal? Invisalign clear aligner therapy may be the answer you're looking for.
You're never too old to get the smile of your dreams and improve your oral health, and you don't have to sacrifice aesthetics in order to get there. Invisalign is:
So clear it's almost invisible
Comfortable
Removeable
Affordable
Efficient
Effective
How Does Invisalign work?
Invisalign uses a series of clear aligner trays, each perfectly calibrated to achieve a certain tooth movement, to gently guide your teeth to their ideal locations. Computer imaging creates a 3-D model of your mouth, which is used to not only pinpoint your exact orthodontic issue but to create your personalized aligner trays. The technology can even show you what your smile will look like when treatment is finished.
The aligner trays are designed to fit over your teeth. You wear each set for 22 hours a day for approximately two weeks before switching to the next set in the series. Once you reach the end of your aligners, you'll see a beautifully straight smile and be able to enjoy a properly functioning bite.
The aligners are made from a smooth, BPA Free plastic that is designed to be as clear as possible. It's so clear that it's virtually invisible, meaning you can go about your busy life without anyone even knowing you're in orthodontic treatment. Big meeting or presentation? No problem – deliver it confidently without worrying if people are paying attention to you or the metal in your mouth.
What advantages does Invisalign offer over traditional treatment?
You'll have fewer appointments because there are no wires to adjust – that means more time dedicated to the things you love, and less time in our chairs.
Eat and drink whatever you'd like without worrying about damaging a bracket or wire – your aligners are removable, so you'll simply remove them before eating and drinking.
Live life confidently – your aligners are discrete, allowing you to continue your daily life without braces getting in the way.
Don't stress over the cost – Invisalign's costs are generally on par with that of the traditional bracket and wire braces.
If you're ready to discover how Invisalign can transform your smile and your life, call Hawaiian Smiles Orthodontics today.